MENTAL HEALTH THERAPY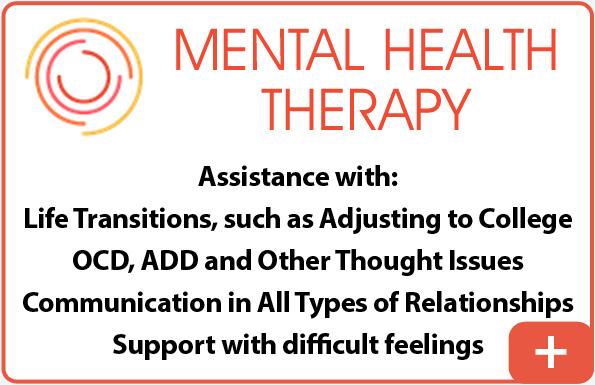 With each mental health therapy client, from children to teens to adults, Julie fosters a nurturing, therapeutic relationship that creates a safe and comfortable environment so that each person may discover their self-defined highest and best self.
Julie believes that a solid foundation of knowledge is key, and she is well versed in psycho dynamic as well as cognitive behavior research and practice. She has experience with a wide range of mental health issues, including but not limited to personal empowerment, anxiety, family and relationship issues, chronic health problems, and alternative medicine. She also has extensive experience running groups of all sorts and will work with family constellations where it is appropriate. Individuals who work with Julie are encouraged to set life goals and enter a practical discussion as to how these goals can be attained—and this helps them see real possibilities. Julie encourages people to take action in their lives.
SOME BASICS:
Sessions last up to 50 minutes. The initial three sessions are considered assessment.
Scheduling is flexible according to busy changing schedules, though weekly or bi-weekly appointments are typically recommended.
Online sessions may be used to accommodate busy schedules, illness, or temporary long distance. However, in-person counseling is preferable in most cases.
CONTACT JULIE REGARDING FEES AND AVAILABILITY
Share this content…